A Brief History of the Artist and Origins of the Blockprint
Lon (Alanzo) Megargee
February 9, 1883 to January 24, 1960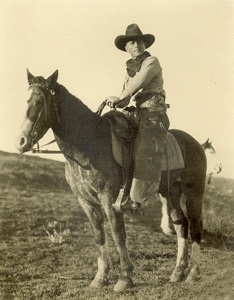 At age 13, Lon Megargee came to Phoenix in 1896 following the death of his father in Philadelphia. For several years he resided with relatives while working at an uncle's dairy farm and at odd jobs. He returned to Philadelphia in 1898 – 1899 in order to attend drawing classes at the Pennsylvania Academy of the Fine Arts. Back in Phoenix in 1899, he decided at the age of 16 to try to make his living as a cowboy.
Lon moved to the cow country of Wickenburg where he was hired by Tex Singleton's Bull Ranch. He later joined the Three Bar Ranch . . . and, after a few years, was offered a job by Billy Cook of the T.T. Ranch near New River. By 1906, Megargee had learned his trade well enough to be made foreman of Cook's outfit.
Never shy about taking risks, Lon soon left Cook to try his own hand at ranching. He partnered with a cowpuncher buddy, Tom Cavness, to start the El Rancho Cinco Uno at New River. Unfortunately, the young partners could not foresee a three-year drought that would parch Arizona, costing them their stock and then their hard-earned ranch.
Breaking with his romantic vision of cowboy life, Megargee finally turned to art full time. He again enrolled at the Pennsylvania Academy and then the Los Angeles School of Art and Design during 1909 – 1910. The now well-trained student took his first trip to paint "en plein air" (outdoors) to the land of Hopi and Navajo peoples in northern Arizona. After entering paintings from this trip in the annual Territorial Fair at Phoenix, in 1911, he surprisingly sold his first oil painting to a major enterprise – the Santa Fe Railroad . . . Lon received $50 for "Navajos Watching the Santa Fe Train." He soon sold the SFRR ten paintings over the next two years. For forty years the railroad was his most important client, purchasing its last painting from him in 1953.
In a major stroke of good fortune during his early plein-air period, Megargee had the opportunity to paint with premier artist, William R. Leigh (1866 – 1955). Leigh furnished needed tutoring and counseling, and his bright, impressionistic palette served to enhance the junior artist's sense of color and paint application.
In a remarkable display of unabashed confidence and personable salesmanship, Lon Megargee, at age 30, forever linked his name with Arizona art history. Despite the possibility of competition from better known and more senior artists, he persuaded Governor George Hunt and the Legislature in 1913 to approve 15 large, historic and iconic murals for the State Capitol Building in Phoenix. After completing the murals in 1914, he was paid the then princely sum of roughly $4000. His Arizona statehood commission would launch Lon to considerable prominence at a very early point in his art career.
Following a few years of art schooling in Los Angeles, and several stints as an art director with movie studios, including Paramount, Megargee turned in part to cover illustrations for popular Western story magazines in the 1920s.
In the 1920s, as well, Lon began making black and white prints of Western types and of genre scenes from woodblocks. These prints he generally signed and sold singly. In 1933, he published a limited edition, signed and hard-cover book (about 250 copies and today rare) containing a group of 28 woodblock images. Titled "The Cowboy Builds a Loop," the prints are noteworthy for strong design, excellent draftsmanship, humanistic and narrative content, and quality. Subjects include Southwest Indians and cowboys, Hispanic men and women, cattle, horses, burros, pioneers, trappers, sheepherders, horse traders, squaw men and ranch polo players.
Megargee had a very advanced design sense for simplicity and boldness which he demonstrated in how he used line and form. His strengths included outstanding gestural (action) art and strong figurative work. He was superb in design, originality and drawing, as a study of his prints in the Hays collection reveals.
In 1944, he published a second group of Western prints under the same title as the first. Reduced to 16 images from the original 28 subjects, and slightly smaller, Lon produced these prints in brown ink on a heavy, cream-colored stock. He designed a sturdy cardboard folio to hold each set. For the remainder of his life, Lon had success selling these portfolios to museum stores, art fairs and shows, and to the few galleries then selling Western art.
Drawing on real working and life experiences, Lon Megargee had a comprehensive knowledge, understanding and sensitivity for Southwestern subject matter. Noted American modernist, Lew Davis (1910 – 1979), helped to explain the uniqueness, strength and character of Megargee's art in a 1975 interview with an Arizona publication:
"His restless independence as a man and an artist was clear then (before WWI) and remained so until his death. Always one characteristic stood out. He was indigenous. He belonged here. Not a carpetbagger with a paint box, or a disillusioned urbanite seeking a new life, but an artist who used what he knew and had lived to put down what he had seen."
From the origins of his career in art, Lon Megargee had a strong sense of the importance and worthiness of contributions that had been made by Native Americans and Hispanics. Even when satirizing their actions and foibles, and those of his Anglo peers, Megargee in his art provided a fairness and balance to all creeds that was enlightened for its time."
This is an edited excerpt, courtesy of Abe Hays, Arizona West Gallery
For a detailed history of Lon Megargee's relationship with A-1 Brewing Company Ad Campaign, go to A-1BeerPrints