Unique and contemporary views of the Southwest landscape are the focus of Ed Mell's work. He was born in Phoenix, Arizona in 1942, and was educated at Phoenix College and Art Center College of Design, Los Angeles, California. After five years of commercial advertising in New York City, he moved back to Phoenix to pursue an inner desire to paint the great American West.
Ed Mell's lasting endeavor to paint the American West was originated with pastel studies before executing a painting. In the Arizona Desert, transforming forms and colors through pastel gave him the essence in which to visualize on canvas.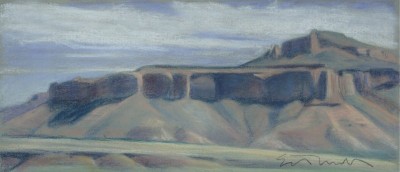 Collier Gallery has created the signature Ed Mell frames for thirty years. We have constantly evolved designs to surround Ed Mell's many mediums. These frames become an intricate part of each artwork, giving the collector the ultimate presentation.
Ed Mell
Permission to reproduce photos and paintings on this website and online catalog secured by Michael Collier. All rights reserved. No portion of this website and online catalog may be reproduced in any manner whatsoever without written permission from Michael Collier, Collier Gallery Ltd.
Disclaimer: Pricing and availability are subject to change without notice; please confirm the description of a piece when you contact us.